SOCIAL MEDIA MARKETING IN RUSSIA:
VKONTAKTE, ODNOKLASSNIKI, FACEBOOK RUSSIA, MOYMIR
SOCIAL NETWORKS IN RUSSIA
There are more than 60 mln people (internet users) in Russia who use at least one social network on a regular basis. These are the most popular Social Media platforms in Russia:
com: It hast right after Yandex the biggest coverage of all internet users in Russia which amounts to 43 mln people daily! These are predominantly younger people.
Odnoklassniki: Translated as "schoolmates" or "classmates", it has 135 mln registered accounts and more than 40 mln active daily users. It is noteworthy that up to 30 % of all Russian users are from abroad.
Facebook Russia: approx. 20 mln registered accounts in Russia, modern intellectuals and western-oriented target audience.
Microblogs: Twitter, Instagram
OUR SERVICES IN SOCIAL MEDIA:
We don't only provide fan page management but also offer different possibilities of advertising such as targeting ads or promoted posts.
Social media strategic planning and consultancy
Conception and implementation of social media campaigns
Design of social media CI and individual functions
Community development and supervision with possibility of customer support
Social media monitoring, reputation management
Social advertising and targeting ads
Thanks to years of experience in targeting advertisement on social media in Russia, we can quickly optimize your advertising campaigns according to your goals. Profound analyses and quick optimization of advertising campaigns are reached by means of pronounced tracking technologies and bid management tools. We can help you reach your target audience successfully and at affordable prices!
FOR BRANDS: REPUTATION MANAGEMENT ON SOCIAL WEB
Some product manufacturers, traders or service providers benefit from word-of-mouth recommendations on social media, whereas users' negative comments cause problems to other companies: the brand's awareness level could rise but its good image will be damaged. The keywords in this case are reputation management.
What can we offer you? We analyze the reputation of your brand, separate products or services on the Russian-speaking Internet and discuss possible activities. Aren't you sure yet?
WHY ADVERTISE BY MEANS OF SOCIAL MEDIA?
Social media is a solid part of online marketing. It enables direct communication with current or potential customers and raises the level of awareness of your products. There follows customer loyalty and revenue growth.
Complex products need good description enhanced by positive customer feedback. Social media channels make it possible: therefore, we present your products and take care of numerous product reviews!
Many Russian customers need additional information about a product before buying it. Social media is the right means to take customers' concerns seriously and convince them of the product: e.g. via chat with a group administrator or via comments on discussion boards.
Russia belongs to countries in which nearly the half of the population use social media. Thus, you have enormous potential for your products on the social web, first and foremost by means of targeting advertising.
One spends a lot of time on social networks – about two hours per day on average. Winning a small part of this time for your products means attaining much attention throughout Russia!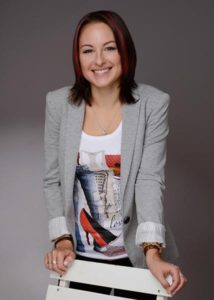 Dipl.-Betriebswirtin Natalia Wittke
Inhaberin
ONMARUS
Do you have further questions about social media marketing?
My team and I are open for your questions on the phone or by email and we are always at your disposal if you need professional advice.  Our initial consultancy is absolutely free of charge. We are happy to help you with words and deeds.
Send us an email or call us under: +49 (0)40 317 024 90
You can reach us daily on the phone from 8:00 until 17:00.
SEARCH ENGINE MARKETING
SEM on Yandex and Google.ru, product marketing via feeds, retargeting, call tracking, look-a-like campaigns and conversion optimization – we support you in all aspects and bring you to the top!
DISPLAY ADVERTISING
Our long-standing clients are impressed with our services such as display and banner advertising, video and pre-roll ads, social targeting ads and dynamic retargeting. When can we convince you?
SOCIAL MEDIA
We offer you social media marketing and social media management Russian platforms vK.com, Odnoklassniki.ru, MoyMir, Facebook Russia, Twitter und Instagram.
MOBILE MARKETING
We offer you mobile web and in-app advertising on the largest platforms iOS and Android. WiFi/ mobile web and other types of targeting are also possible.