SEM Russia: Search Engine Marketing with Yandex.Direkt, Begun, Google Adwords
Why ONMARUS
ONMARUS is one of Yandex's oldest partners in Germany. We've been working with the Russian search engine since 2009.
All search engine marketing campaigns are solely focused on the Russian online market. Some advertising campaigns run on neighbour target markets such as Ukraine, Kazakhstan and Belarus.
Having regard to the Russian mentality and possessing perfect knowledge of the Russian language we can offer optimum adaptation of product groups to desired target audiences.
With us, you will benefit from higher CTRs and as a result from better optimization of the search engine advertising according to your end goals (brand building, lead generation, increase in turnover, improvement of KPIs such as CPL/COP/CPI/ROI).
Our Services in Search Engine Marketing
Complete setup of new advertising campaigns on Yandex or Google in Russia
A significant reduction of CPC of new SEM campaigns within a few days
Establishment of conversion-tracking on Yandex.Metrics. if necessary
Optimization of current SEM campaigns for better performance or prifitability
Strategic campaign management with focus on performance goals
Ongoing analysis of performance and conversion optimization
Documentation and reporting
Furthermore, all campaigns supervised by our agency are exempt from Russian VAT of 18%.  This means that the cost per click  (CPC) is 18% cheaper than the usual CPC.
Technical Possibilities on Yandex
Product feeds for product marketing
Mobile app advertising
Extensive retargeting
Orientation on mobile devices
Targeting according to age and sex
Call tracking
Look-a-like targeting
Strategies for conversion optimisation
Our Professional Know-how
Our agency possesses experience in following fields on the Russian market:
E-commerce:fashion, cosmetics, elektronics, software
Medicine services
Pharmaceutical online shops
Tourism, transport- und leisure offerings
Machinery industry
Gaming: online games, social games, peer-to-peer computer games
Don't you know Yandex yet?
Yandex – The Most Powerful Search Engine in Russia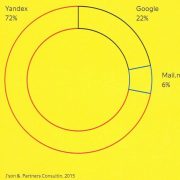 Yandex is the most widely used search engine in Russia and is therefore vitally important for search engine marketing.
Yandex has sustained its market share of approx. 57% (2016) for several years. Google follows on the solid second position with its nearly 35% market share. However, this search engine doesn't perform strongly enough to achieve substantial outreach. Thus, Russia belongs to the countries where a domestic search engine dominates.
Advertisers in Russia display their advertising on Yandex and additionally on Google. However, one can reach more users with Yandex, above all through cross-media distribution: Yandex will be set as the main search engine in browsers and there are hardly any mobile users who don't use any of the Yandex apps such as Maps, Email, Weather, Metro information.
Search Engine Marketing on Yandex (SEM, SMA)
Search engine marketing basically means advertisements in search results and if desired in advertising networks of search engines. There are several terms for search engine marketing, the most widely spread of which are such English terms as search engine advertising (SEA), search engine marketing (SEM) and paid search ads.
Search engine advertising on Yandex is similar to its western equivalent Google. Yandex advertisements are paid per click according to the auction principle (cost per click oder pay per click = CPC , PPC). It means that the cost per click changes constantly and depends on the density of competition for respective keywords and on the click rate of the advertisement. Click rate or conversion rate shows mostly how successful the advertisement is or the relation of eye contacts to clicks.
Costs
Yandex is very popular as an advertising platform, costs per click are therefore a bit higher than on Google. However, one should take into consideration that the conversion rate is mostly higher on Yandex than on Google. The CPCs vary considerably and total 0,01€ – 3,50€ for products and services for which we have displayed advertisements on Yandex so far. One can reduce these costs with sufficient know-how and application of certain strategies.