ETHNIC MARKETING – ADVERTISING IN GERMANY
ETHNIC MARKETING IN GERMANY
Ethnic marketing comprises all marketing activities directed at users with migration background. There are nearly 3.8 mln Russian-speaking citizens in Germany. This group does not only include migrants from Russia but rather from all the countries of the former Soviet Union such as Ukraine, Belarus, Georgia, Armenia, Uzbekistan etc. Many late repatriates come from Kazakhstan.
Our services include advertisements on the biggest Russian-speaking Internet platforms in Germany and in Russia (cross-border traffic).
Costs of media campaigns are based on a Cost per Click model, though a Cost per Lead model is also possible upon agreement.
Request the best OFFER tailored for your goals!
WHY IS ETHNIC MARKETING SO IMPORTANT?
Russian-speaking citizens with migrant background have been living in Germany for 10-14 years but they haven't abandoned their culture and language yet. They read Russian books and newspapers, listen to the Russian radio and watch Russian TV channels. On the Internet, they predominantly access Russian-speaking websites.
There are Russian communities on Internet platforms in Germany which ebnables communication among migrants. Users with German IP addresses are registered on numerous websites on the RuNet. This is a case of the so-called cross-border traffic.
Advertisements for Russian-speaking users in Germany create new potential for your business! Contact us to get a non-binding offer!
STRONG TARGET AUDIENCE FOR PERFORMANCE MARKETING
Russian-speaking migrants form a target group of strong buyers. The reason for that is the Russian mindset: consuming instead of saving. Statistics data show that emotional purchases take place very often.  Image, status and the sophisticated appearance of brands play a very important role for many Russians. Women are fashion-conscious and spend much money on clothes, shoes, jewellery and cosmetics. Men spend money on the newest electronic devices. High standards are also aspired in many other fields as well, which distinguishes the consumer behaviour of Russians from the average consumer behaviour of Germans.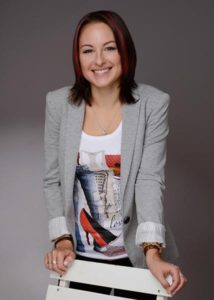 Business Economist Natalia Wittke
CEO
ONMARUS
Do you have further questions about social media marketing?
My team and I are open for your questions on the phone or by email and we are always at your disposal if you need professional advice.  Our initial consultancy is absolutely free of charge. We are happy to help you with words and deeds.
Send us an email or call us under: +49 (0)40 317 024 90
SEARCH ENGINE MARKETING
SEM on Yandex and Google.ru, product marketing via feeds, retargeting, call tracking, look-a-like campaigns and conversion optimization – we support you in all aspects and bring you to the top!
DISPLAY ADVERTISING
Our long-standing clients are impressed with our services such as display and banner advertising, video and pre-roll ads, social targeting ads and dynamic retargeting. When can we convince you?
SOCIAL MEDIA
We offer you social media marketing and social media management Russian platforms vK.com, Odnoklassniki.ru, MoyMir, Facebook Russia, Twitter und Instagram.
MOBILE ADVERTISING
We offer you mobile web and in-app advertising on the largest platforms iOS and Android. WiFi/ mobile web and other types of targeting are also possible.